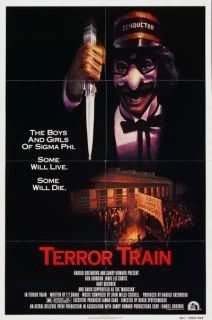 Terror Train
(1980)
[Ben Johnson; Jamie Lee Curtis; Hart Bochner; David Copperfield; Derek McKinnon; Sandee Currie; Timothy Webber]
Plot: A fraternity prank goes wrong and lands one student in a mental institution. Four years later, when his frat brothers host a costume party on a train to celebrate their graduation, the student sees this as his opportunity to exact revenge. He sneaks on the train and begins killing the partygoers one at a time, masking himself in the costumes of his victims. Will anyone make it off the train alive?
This is another early 80s slasher pic, one of the films that helped give Jamie Lee Curtis her Scream Queen title for years. Her role here as Alana is much less the shy, innocent than Laurie was in
Halloween
.
And it isn't a bad film, certainly gets points for originality. The mystery of who is actually doing the killing is pretty well done, even if the reveal is a little ... strange.
Johnson does great in his role as the "sole" adult amongst a train full of partying kids. And the claustrophobic setting is an interesting change from other run-of-the-mill movies.
Recommended for horror/slasher/Curtis fans. It is a film I have watched more than once, so that says a lot, to me at least. Others may not be as thrilled by it all.
The 2008 film Train was originally planned to be a remake of this movie, but the story changed and it became its own film. A real remake of this film is rumored to be in the works.