Day Four: Favorite Book
~~~~~~~~~~~~~~~~~
A few years ago, I would have answered this question with
The Witching Hour
by Anne Rice. It is a great saga of a story, with rich, interesting characters amid the backdrop of New Orleans, past and present. When Rice is on her game, she can transport you to a place you can almost see and feel. Amazing stuff.
However, I think another book as replaced that one as my favorite.
~~~~~~~~~~~~~~~~~
The Princess Bride
by William Goldman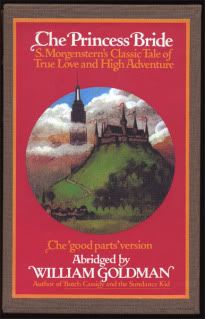 The Princess Bride
is mostly known to the world due to the equally awesome
1987 film
based on the book. And while the movie is great fun, the book is its own brand of wonderful.
Goldman writes the book as an abridged version of a longer, boring text by S. Morgenstern. His version is supposed to be the "fun" version, filled with adventure, comedy, fantasy and true love. It is all of that and more.
If you only know the story of
The Princess Bride
from the movie, pick up a copy of the book. You won't be disappointed, and you'll see why it is my favorite book.
Click here for an excerpt of the book.