The House Where Evil Dwells
(1982)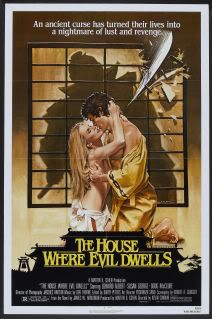 [Edward Albert; Susan George; Doug McClure; Amy Barrett]
Plot: A dream home turns into a terrifying nightmare for a young American family in this classic haunted house tale. The Fletchers move into an old Japanese abode unaware that a century earlier, a samurai warrior committed two brutal murders and then killed himself on the premises. As eerie events begin to occur, the Fletchers find themselves pulled into a horrific reenactment.
This was a film I had somehow never heard of until it aired on TCM last month. It was a pretty standard haunted house flick, I suppose, except for the fact that the house was in Japan. And the ghosts, while they do some awful things, also do some silly things or... well, nothing much at all.
I don't know. Maybe it would have been better to see this one when it was new and 'modern' back in '82. And when I was 11.