Okay, so I have to get this post out before the day ends, since the April Challenge is on.
~~~~~~~~~~~~~~~~~~~~~~~~
Day One: Favorite Actor
~~~~~~~~~~~~~~~~~~~~~~~~
James Stewart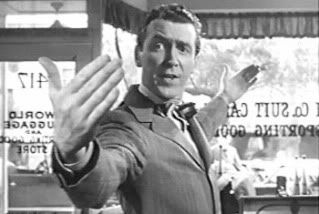 I thought about this all day, and I have to go with always great Jimmy Stewart. Whether we are watching him do the right thing at the expense of his dreams in
It's a Wonderful Life
or watching him watch his neighbors in
Rear Window
, he is always a joy to watch. And while L.B. Jeffries and George Bailey are two of my favorite Stewart roles, there are so many more performances of his that I love.
Some of his roles I enjoy, time and again, include David in
After The Thin Man
, Alfred Kralik in
The Shop Around the Corner
, Macualy Connor in
The Philadelphia Story
, Rupert Cadell in
Rope
, Elwood in
Harvey
and Dr. McKenna in
The Man Who Knew Too Much
.
Infinitely watchable, Jimmy Stewart is my favorite actor.