This week, a look at another blog that revolves around comic strips.
The Comics Curmudgeon
run by
Josh
, is a daily look at the comics page with commentary on some of the more absurd things therein.
Josh pokes fun at the strips, but it is done with a love for the material, as well.
Head on over to his site for some laughs and to join in on the comments and the
forum
!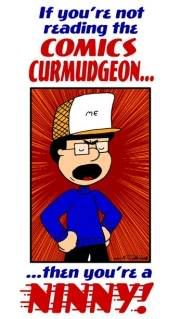 Thanks to Mooncity, at
Autumn Lake Webcomic
, for the above graphic.