Theme Thursday
this week delves into the supernatural with '
Ghost
'
Ghosts are not something I believe in personally, but I love horror movies and there are plenty of ghosts to be found in them!
~~~~~~~~~~~~~~~~~~~~~~~~~~~
Poltergeist
(1982)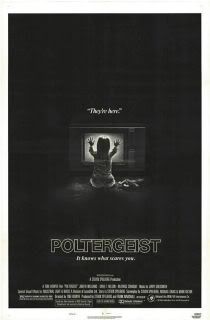 "They're here..."
Who can forget that line from the early 80s blockbuster horror flick? Directed by Tobe Hooper (The Texas Chainsaw Massacre), this was a supremely creepy film about a normal American family caught up in paranormal circumstances.
Scared the ever-lovin' crap outta me as an 11-year-old! The possessed clown doll was bad enough, but then there were scenes like this: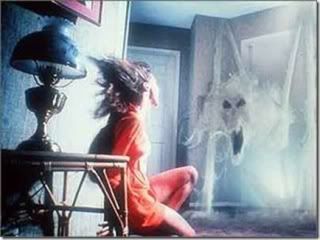 Egad!!!
~~~~~~~~~~~~~~~~~~~~~~~~~~~
The Haunting
(1963)
Based on a novel by Shirley Jackson (which I still want to read), this is one of those old movies I ignored as a kid. What a mistake. It would have scared me silly then.
Even now the film retains the eerie sense of the unknown, of being watched by something so sinister and evil, that one can get goosebumps. Julie Harris is so great as Nell, the lonely woman who thinks she has finally found a place, a home, where she is special. Eeek!
(The
remake from 1999
is good, but the original is better.)
~~~~~~~~~~~~~~~~~~~~~~~~~~~
The Fog
(1980)
John Carpenter, Debra Hill, Jamie Lee Curtis, Tom Atkins, Janet Leigh, John Houseman, Hal Holbrook... What an awesome creative pool. The movie? Less than it could have been.
A film about the vengeful ghosts of pirates who were wronged and died at the hands of a greedy few. The film is creepy and eerie and has so much going for it that it has always been hard for me to knock it. But there has always been a bit of confusion or a lack of clarity that just irked me.
That said, it is still LOADS better than the
remake from 2005
.
~~~~~~~~~~~~~~~~~~~~~~~~~~~
The Sixth Sense
(1999)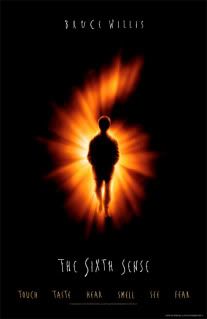 "I see dead people."
M. Night Shyamalan wrote and directed this film, and was lauded as a 'new Hitchcock' at the time. While that proved to be an overstatement, this film still holds up as a great, and sometimes very creepy, ghost movie.
It is funny, the film can be watched for the first time twice. By this, I mean that the first viewing is great, but once you know "the secret" and re-watch the film, you are viewing it all with a new eye. Interesting, at least.
~~~~~~~~~~~~~~~~~~~~~~~~~~~
The Ghost and Mrs. Muir
(1947)
A classic, this film is one I really enjoy. Not scary, it is more of a romantic ghost story. A lonely widow (the beautiful Gene Tierney) with a small daughter moves into a wonderful seaside cottage, which just happens to be haunted by the previous owner, the late Captain Gregg (the great Rex Harrison).
Can the two proceed to co-exist, when one of them no longer exists? I love the mood here, and the scenery. Just wonderful, a great film that spawned a late-60s television series of the same name.
~~~~~~~~~~~~~~~~~~~~~~~~~~~
Beetlejuice
(1988)
This is Tim Burton's great 80s comedy, a quirky ghost story that is full of weird and wonderful characters.
Michael Keaton is great as the title ghost, but Geena Davis and Alec Baldwin are also great as the confused Maitlands. Winona Ryder is perfect as the morose Lydia. And Catherine O'Hara is just great, as usual.
Say his name three times! "Beetlejuice! Beetlejuice! Beetlejuice!"
~~~~~~~~~~~~~~~~~~~~~~~~~~~
The Others
(2001)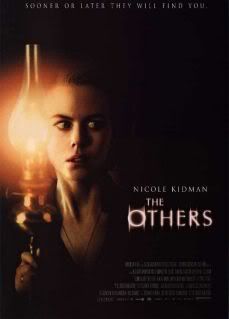 This film is another with a twist, like "The Sixth Sense". Once you know it, the next viewing is a different experience.
This film deals with ghosts in a different way and it is interesting to watch. I feel like I shouldn't say too much, even though the film is 8 years old, there may be some out there who haven't seen it. And I don't want to spoil it.
A great acting turn by Nicole Kidman, it's a film to watch at least twice.
~~~~~~~~~~~~~~~~~~~~~~~~~~~
Sleepy Hollow
(1999)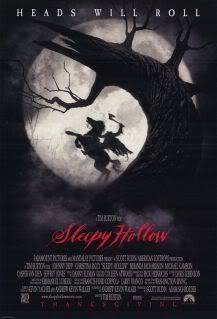 Based on the great short story by Washington Irving, this film is another wonderful collaboration by director Tim Burton and star Johnny Depp.
Creepy and scary, the film is fun in a horrible way, with Depp perfect as the awkwardly uncomfortable Ichabod Crane, Christina Ricci wonderful as Katrina and Christopher Walken creepy as the pre-headless Horseman.
Rent this around Halloween - a great way to get into the spirit of the season!
~~~~~~~~~~~~~~~~~~~~~~~~~~~
Ghost Town
(2008)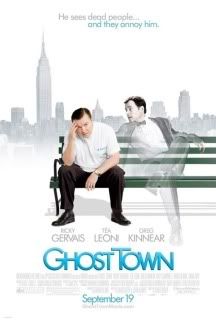 This is a newer film, but great fun!
Ricky Gervais plays a lonely, jerk of a dentist, who goes in for a routine medical procedure winds up with a strange side effect - he can see and hear the dead! And the dead want his help, since they have no power to interact with the living.
The film is simple, but funny and well acted by Gervais, Greg Kinnear and Tea Leoni. Gervais is the stand-out, however, making his character more than just a jerk, he is a real man who has just lost his way in the world. Very good.
~~~~~~~~~~~~~~~~~~~~~~~~~~~
Ghost
(1990)
Didn't think I would leave this one off the list, did you? Truth is, I almost did. Sheesh, I am getting old!
This film was a big hit when it was released, the pairing of Patrick Swayze, Demi Moore and Whoopi Goldberg, all in their prime, was box office success.
Swayze plays the title ghost here, an honorable man killed by a thug working for a dishonorable man he thought was a friend. Whoopi plays the fake psychic who suddenly finds her power working for real.
Great scenes, with a good mix of comedy and romance, this film is the one with the much-parodied scene of Moore and Swayze and the pottery wheel. Heh.
~~~~~~~~~~~~~~~~~~~~~~~~~~~
Hope you enjoyed this ghostly jaunt through Hollywood. Check out what the other
Theme Thursday participants
are conjuring up this week.
And here is a bonus ghost for you: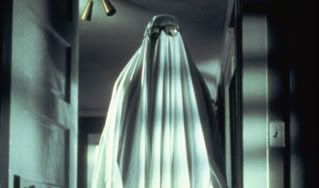 Michael Myers playing a little prank. Does he get your ghost? ;)